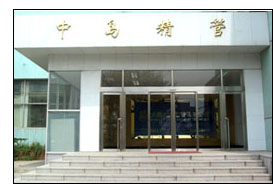 Invested jointly by NAKAJIMA Precision Tube Industry Co.,Ltd, Dalian Daxian Co.,Ltd and West Japan Trading Co.,Ltd, the company manily produces kinescope electron gun parts, originally founded in December 2002. With the rapid development of Chinese economy, in order to meet the requirement of domestic market on assembled products and spare parts industry, many foreign-owned enterprises have invested directly in China and set up production bases and relevant system in Chinese market.
  Our company, taking Dalian Daxian Co.,Ltd as the main consumer, established the factory to produce the cathode sleeve which is the heart of the kinescope electron gun. Among the new products such as liquid crystal display and plasma display, the kinescope occupies its space in stiff market depending on its ripe technology and low cost as the competitiveness. The cathode sleeve is a kind of metal precision tube which takes nickel as the base alloy, external diameter 1.3mm - 3.0mm, wall thickness 0.015mm - 0.08mm,length 1.5mm - 6.0mm. It has pretty high demand on dimension precision and cleanness.
  
On the basis of ripe technology and production know-how of NAKAJIMA Precision Tube Industry Co.,Ltd in Japan, our company produces this kind of products in Dalian and sell them both at home and overseas. In the future, the company will develop new products for the new field in Chinese market on the basis of cathode sleeve technology. We'd like to make great effort as the manufacturer of metal precision tubes to get supported from customers more and more. Thanks a lot for your attention and support!
  Tel:+086-0411-8731-2629       Fax:+086-0411-8732-4089
  Foundation:Dec, 11th, 2002   Registered Capital:RMB 9 Million Yuan
  General Manager:NAKAJIMA TOSHIYA   Staff:120